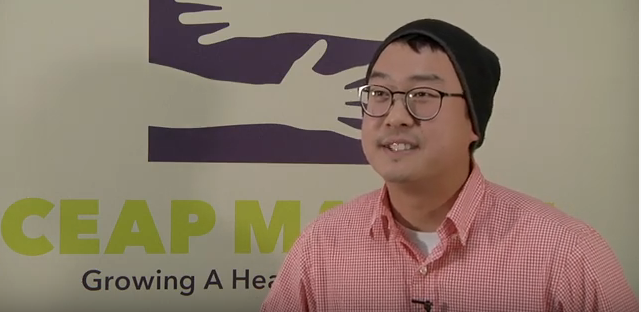 During the month of February, CEAP is celebrating our love for YOU, our community! We'll be sharing a story each week from a volunteer and/or donor about their experience at CEAP and the "why" behind their commitment to our community!
Our first piece is about Tony, a volunteer and donor who has been at CEAP since April 2019. We asked him to share a little about how he got started at CEAP, and how his initial volunteer opportunity has evolved in the past year. Take it away, Tony:
"To be honest, I needed to change my lifestyle so I decided to move out to the suburbs and found that the suburbs allows a lot of free time. I've always wanted to give back to the community somehow, so I researched some food shelves and discovered CEAP.
Initially, I wasn't sure about it since Brooklyn Center isn't necessarily my community per se, but the mission/message was something I strongly believed in. On top of that, staff and the participants were just warm, welcoming, really awesome people, so I decided to stick around.
I volunteer on Wednesday nights in the food market whenever I can. I have a busy schedule during the NBA season as I work every home Timberwolves game and, unfortunately, a lot of games fall on Wednesdays. When there isn't a home game, I plan my Wednesday nights to be at CEAP. Luckily, the CEAP food market is open until 6:00 PM on Wednesdays so I make it work with my work schedule. My duties in the food market include stocking shelves, sorting donated food, greeting participants and answering any questions, and then helping the participants weigh their food as they check out.
The CEAP mission of growing a stronger community is something I believe in. After CEAP gave me a chance to contribute as a volunteer, I wanted to give back even more to CEAP.  Give to the Max Day, Minnesota's annual day of giving, was the perfect opportunity. CEAP shared an opportunity to host my own online fundraising page, so I set up the page and shared it with friends and family. I'm fortunate to have a network of friends who believe in what CEAP provides to the community and were more than willing to donate to the fundraiser. It was so exciting to raise $5,355 for CEAP! With the proceeds going to expanding CEAP's second location, it was important to raise more awareness about the CEAP's mission.
My employer, The MN Timberwolves/Lynx, and CEAP have a great partnership and have worked together before in the past. With my influence, I just simply wanted to give it an extra nudge and do something more. After the Give to the Max Day campaign, people were excited about CEAP! We nominated them for our staff holiday season fundraising campaign, and by a vote our staff chose to support CEAP! We raised more money than we ever have during one of these fundraisers.
For MLK Day, all 180 of us went to CEAP to volunteer. It was tremendous seeing my work colleagues getting to experience CEAP and actually contributing to something even bigger. Everyone was so excited after volunteering at CEAP and even raved about it the following week. It doesn't matter how big or small the staff is– just getting people out to volunteer and help out is something I would highly recommend. The CEAP staff was very accommodating and found a way to make it all work with our staff of 180 volunteers.
Since my first volunteer shift in April 2019, I have been able to grow my impact at CEAP in exciting ways. Even though I originally wasn't sure if this would be the right fit for me, I have really found my community at CEAP.  It feels good to support CEAP in a volunteer capacity, and I look forward to finding more ways to grow a stronger community."
Want to be a volunteer like Tony? Head over to www.ceap.org/volunteer and get started!
Continue getting to know Tony by watching this interview from his debut as a cooking competition judge during CEAP Chef: