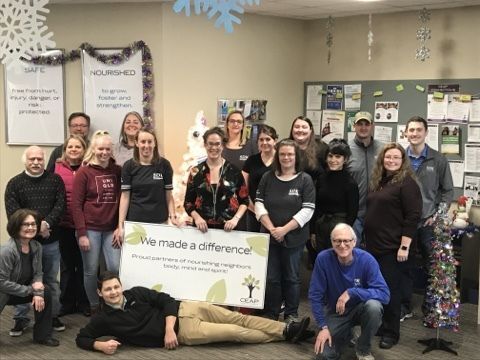 In the face of rising food, fuel, and housing costs, CEAP is seeing a 117% increase in first-time visitors to our Food Market. The need for food and friendship is high and CEAP is hurting from economic challenges along with our community. Purchasing food from partners is not only costly; it's near impossible due to global shortages.
CEAP has partnered with families through difficult times for 50 years and we know that every neighbor deserves to share in the joy of the holiday season. This November and December, CEAP will share 3,000 holiday meals through our Food Market and provide toys and gift cards for 3,000 children.
We need your team to mobilize and make sure no neighbor has to choose between holiday celebrations and paying the bills this winter. Once you've looked over our CEAP Season of Sharing Action Kit, please fill out our interest form!
There are a few different ways you can participate in CEAP's Season of Sharing:
Host a toy and/or gift card drive
Host a food drive to collect holiday baking and meal items
Host a virtual fundraiser to help CEAP purchase holiday ingredients and other essential holiday items
Volunteer!
Provide a direct financial contribution as an organization - and match your employee's gifts!
More information about all of these options is available in our Season of Sharing Action Kit.
If you have any questions or are ready to take on the CEAP Community Challenge, please contact Mark, CEAP's Development and Donor Services Manager, at 763-450-3664 or mark.zobel@ceap.com!