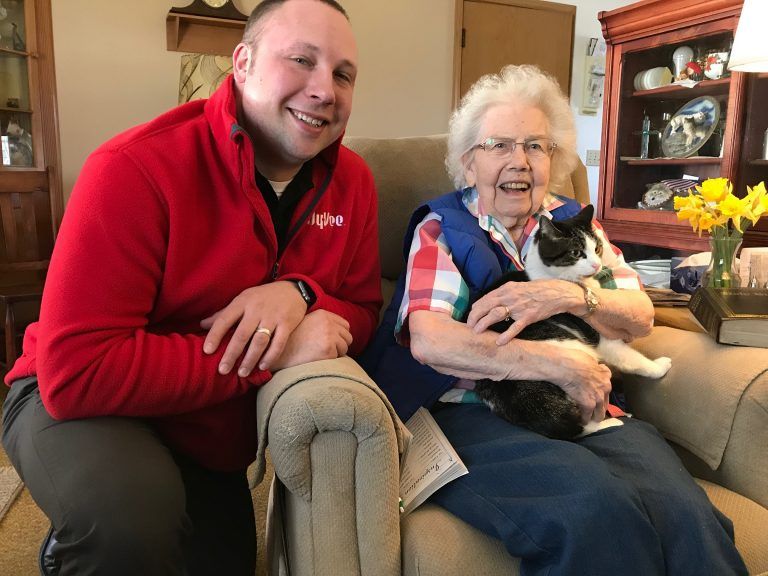 As we age, our nutritional requirements change and our appetites often decline. Getting the right nutrients for our bodies can be difficult and expensive—but it doesn't have to be! Today, we'll share more about two CEAP programs that aim to address the nutritional needs and barriers to food access for our senior neighbors, in addition to the Meals on Wheels program. 
Silver Selects
Silver Selects (SS) is a hybrid program that falls somewhere between Meals on Wheels and CEAP's Food Market.  SS is a Title III-funded program for adults 60+ who have difficult shopping and cooking, but are able to come to CEAP once or twice each month.
CEAP Silver Selects offers the following diet options: regular, mechanical soft, puree, vegetarian, gluten free, lactose free, and renal. We also offer options for no fish/seafood and no pork. Each participant can receive 28 frozen meals per month; they either pick up all 28 at one time, or they pick up 14 meals twice each month. One of the biggest determinants is the amount of freezer space they have at home!
Silver Selects is designed to help those in a transitional phase in their life. Program participation is reevaluated every 12 weeks. Depending on needs, a participant may continue or transition to Meals on Wheels delivery.
The Silver Selects program is totally free for participants, and at CEAP each participant is also welcome to do a full grocery shop in our Food Market when they come to pick up their meals. This allows SS participants to help fill out the rest of their nutritional intake through the month. CEAP is currently provided nearly 800 meals through Silver Selects every month!
NAPS
Nutritional Assistance Program for Seniors (NAPS) is a senior nutrition program funded by the United States Department of Agriculture and managed in Minnesota by the MN Department of Health. The intended participants are adults aged 60+ who have more mobility and are comfortable with some cooking. NAPS is traditionally a boxed program (meaning the food is prescribed and prepackaged), and these boxes are usually distributed by food shelves during a 2-3 hour window one day each month.
CEAP believes in choice-based programming, and because of that we have adapted our NAPS program to address the needs of our senior neighbors. CEAP's NAPS participants make an appointment once each month to come to CEAP. When they arrive, we provide a menu of options and each participant selects the items they'd like in their box. This allows everyone to get the items they like and will eat, and prevents waste of unwanted items.
NAPS participants are also invited to shop in CEAP's Food Market while they wait for their NAPS box to be packed for them. We are seeing more of our NAPS participants opt to shop in the food market as the program grows! CEAP currently has 32 participants in the NAPS program, and we're hoping to continue to accept new participants.
Terry, who manages NAPS and helps coordinate Silver Selects, loves getting to connect with seniors through the programs. "One of our NAPS participants calls me just to check in and see how I'm doing. NAPS and Silver Selects addresses more than nutritional needs—it also provides the opportunity for seniors to be in a joyful, welcoming community space at least once a month. Just listening to everyone's life story is one of my favorite parts of this work!"
Do you have questions or think that you or a loved one could benefit from one or both of these programs? Contact us today at info@ceap.com . We'd love to get you connected to these resources!