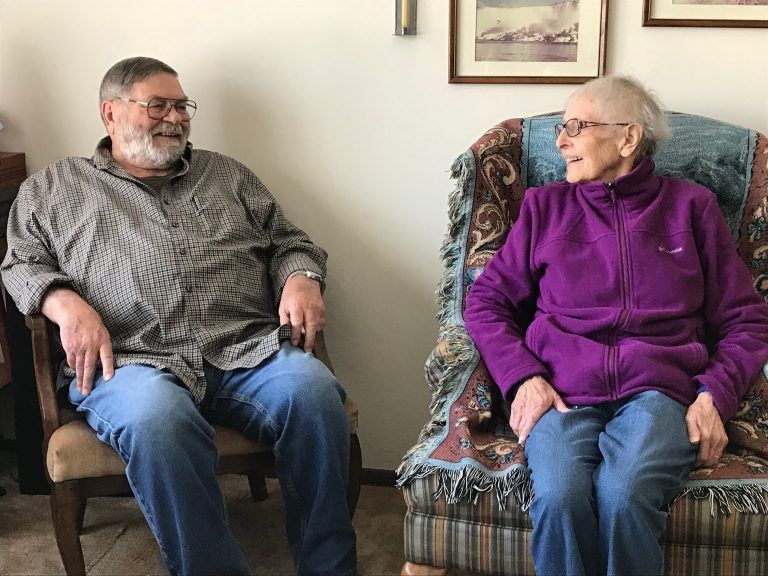 CEAP's Meals on Wheels program provided 31,604 meals to 251 people in 2019. But Meals on Wheels is more than a meal– it's a program that keeps seniors engaged in their communities and gives family members peace of mind.
Each day they deliver a meal, Meals on Wheels volunteers also provide a warm smile, a friendly conversation, and a safety check. They ask questions about each neighbor's day, ask how they're feeling, and check for signs of accidents, poor health, or even whether the temperature of the home seems too warm or cold (depending on the season). For family members who live far away or are unable to visit their loved one every day, knowing they're being checked on every day offers comfort and reassurance.  
Throughout the year, CEAP's Meals on Wheels does a few "special" projects for our neighbors. One of those projects is our annual distribution of Blizzard Boxes, which are pre-packed boxes containing enough shelf-stable food for two days of lunches in case some classic Minnesota winter weather prevents our regular meal delivery! Rachel, our Meals on Wheels Program Coordinator, also sends holiday cards to neighbors and also receives some cards back from our neighbors, which we display in the kitchen at CEAP. This winter, we received an incredible donation of quilted placemats for every Meals on Wheels participant from Minnesota Quilters and partnered with Gifts for Seniors and Medtronic to provide a gift bag of holiday presents to every participant! One of our participants wrote us a thank you note saying, "I don't have anyone who gives me gifts anymore. It's nice to know that someone is thinking about me!" Meals on Wheels participants really enjoy receiving cards and holiday gifts.
Meals on Wheels meals are low-sodium, diabetic-friendly, and provide ⅓ of an adult's recommended dietary allowance (RDA). We have all sorts of neighbors who participate in Meals on Wheels at CEAP:
we provide nutritious food to neighbors who are experiencing or recovering from illness or surgery and don't have someone to take care of them; 
we provide nutritious food to active older adults who want to spend their time and energy in ways other than cooking and preparing food; 
we provide nutritious food to folks whose doctors have enrolled them in Meals on Wheels to ensure that when their depression prevents them from getting up and taking care of themselves, they will still have a hot meal at noon; 
we provide nutritious food to neighbors who can no longer cook for themselves and for whom this service means they get to remain in their home.
Meals on Wheels is a service for so many neighbors in varying situations and stages of life, and at CEAP we do our best to ensure that cost isn't a barrier. That's why we depend on donors– we don't want to turn away someone who could benefit from Meals on Wheels but who can't afford it. Everyone deserves nutritious food and a friendly visit from someone who cares about them. 
We also want to thank our partner Subaru, who granted us a Subaru Outback in 2017 for the purpose of extending our Meals on Wheels program! We love our Subaru Outback, and the opportunities it provides us to reach more seniors with nutritious meals.
There are two ways you can make a difference for seniors in your community this January:
Make a donation to CEAP to ensure that every senior has access to nutritious meals, a friendly visit, and a safety check each day. A donation of $25 provides one week of Meals on Wheels to a senior who otherwise couldn't afford it; a donation of $100 provides one month of meals, and your donation of $1200 provides a full year of nutritious meals, friendly visits, and safety checks!
Commit to a volunteer shift with CEAP's Meals on Wheels. Each shift is less than two hours and you can volunteer once a week, every other week, once a month, or as an on-call driver!
Stay tuned for our next blog post about another CEAP program for seniors—65 & Thrive!