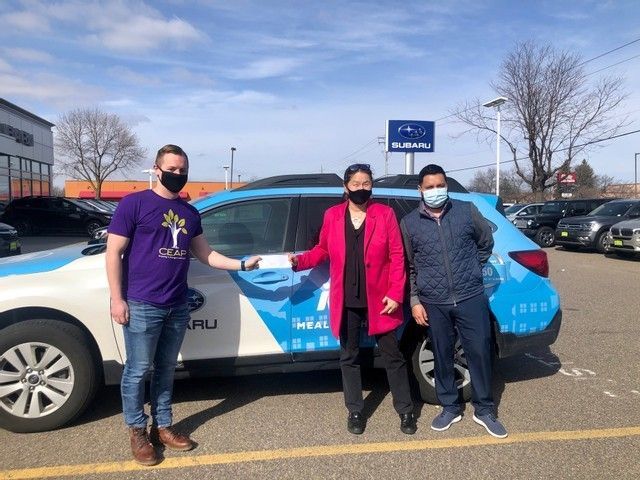 Tina Ingalls is the Sales Manager at Morrie's Brooklyn Park Subaru and has been there for over a decade. In that time, CEAP and Subaru have built a strong relationship through the nationwide Subaru Share the Love Event and local initiatives with the local Morrie's dealership. "We're always looking to give back to the community," Tina says. "It's at the core of who we are at Subaru and at Morrie's." 
Morrie's Brooklyn Park Subaru first partnered with CEAP to host a food drive. Since then, they've also supported us financially, through volunteerism, and by facilitating a relationship between CEAP and Subaru of America. A few years ago, Subaru of America launched a program to provide vehicles to local Meals on Wheels chapters like CEAP. Tina stepped in to submit a request for a vehicle on CEAP's behalf and advocated for the impact that vehicle could have for our program and our community. CEAP was awarded a Subaru Outback that we now use to deliver hot meals, safety checks, and friendship to our homebound neighbors through CEAP Meals on Wheels! 
Tina says that the question is never whether the team at Morrie's Brooklyn Park Subaru should help, it's how to help and who needs support the most. They've continued to support CEAP because we are the "community helper" and are an umbrella of a wide variety of different programs that serve different needs in the community.  
"Our missions are very aligned," Tina says. "Morrie's Brooklyn Park Subaru is about bringing happiness to our community." Together, we deliver health and happiness to our neighbors!