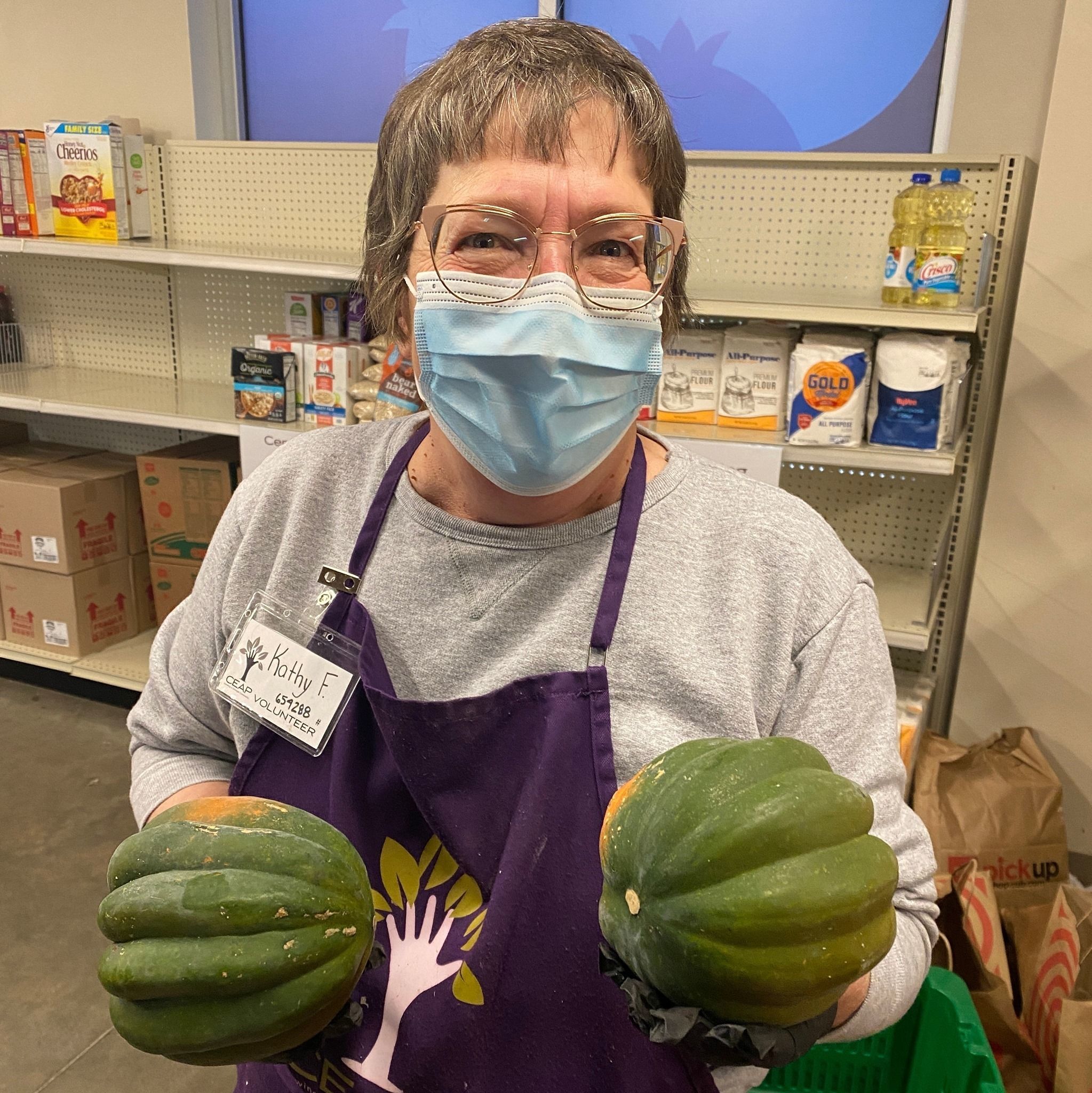 Kathy started volunteering at CEAP five years ago after seeing on Facebook that we were experiencing a volunteer shortage. She had retired from a career in high-tech computing and CEAP appealed to her because it was more of a "frontline" position. "It was really fun to adjust to different ways of doing business," Kathy said about the transition from her career in computing to volunteering at CEAP.  
Like so many volunteers, Kathy adapted to changing circumstances caused by COVID-19 with an enthusiasm to do whatever she could to support our neighbors through challenging and unprecedented times. She moved from her role on CEAP's customer service volunteer team to a position in our Food Market building produce boxes.  
"CEAP really pays attention to quality. When I'm building a produce box, I have a mental picture of a family who I'm putting the produce together for," Kathy says. "I see them as my relatives. They could be anyone. They could be my son." 
In 2020, Kathy joined Partners in Possibilities, CEAP's recurring giving program. She said that having spent a few years seeing CEAP's broad range of services that we provide to our community and contributing to that direct impact, she no longer felt that it was enough to just give her time. Although Kathy has experienced what CEAP means to our community, she says that it's definitely a two-way street at our community is very involved and supportive of our work, and that's something she felt called to be part of. 
An example of CEAP's impact that Kathy says she will never forget is when a mother of four kids came to CEAP shortly after her husband passed away. She did not have access to the family's money and didn't know how she would feed her children, so she turned to CEAP. CEAP – and Kathy and her fellow volunteers – were there for this neighbor when she needed us most.  
Kathy is also particularly inspired by CEAP's kids' programs. Both her mother and sister were teachers and she has nieces and nephews who are teachers now, so she understands that supporting kids goes beyond nutritious food; she says that CEAP's birthday bags and cakes always put smiles on people's faces. 
What does CEAP mean to Kathy? "I'm not sure I can put that into words. It's a heart- and soul-filling experience."