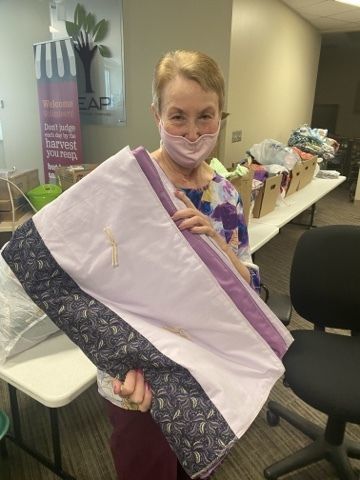 2022 is CEAP's 50th year in our community, and one of the ways we're celebrating is through a "50 Faces of CEAP" series spotlighting some of our many neighbors who make the CEAP community so special! First up is Linda Kubinski, CEAP volunteer.
In 2006, Linda Kubinski was on her way to file for unemployment benefits after losing her job when she saw CEAP's building in Anoka. She decided to go in and see if we had any volunteering opportunities available. She received information about CEAP's Thrift Store and began volunteering with us shortly thereafter. 
Volunteering had been a part of Linda's life since her kids were little and attending Willow Lane Elementary (right next to CEAP's current location in Brooklyn Center!). "Volunteering is in me," Linda says. 
Linda had previous experience working with clothing at another local nonprofit, so our Thrift Store definitely fit within her niche. In the last 15 years, CEAP has become Linda's second family. She's stayed with CEAP for the past decade and a half because of the CEAP community, the friendships she's formed with other volunteers, and the feeling of being able to help her neighbors in any way she can. 
When the COVID-19 pandemic entered our community, CEAP closed our Thrift Store for the health and safety of our participants, volunteers, and staff, and to enable us to focus on meeting an increased demand for food assistance. Linda and her fellow Thrift Store volunteers rose to the occasion and shifted to helping CEAP build hygiene and self-care kits, and other special projects as needed. 
Linda believes that when CEAP provides our neighbors with supports like nutritious food, we're providing them with opportunities as well; this is one of the reasons why she's remained part of the CEAP community. She also appreciates that it gives her something to be part of during her retirement.  
"You give a lot and you get a lot back in return."